Society for Crypto-Judaic Studies Officers & Board Members
Rosa Marina Seigal
SCJS President and Archivist
Born and raised in El Salvador from parents who are descendants of colonial Crypto –Jewish families of Western Honduras, Rosa Marina Siegel is a biologist who worked as a consultant for the Green-COM USAID Environmental Education and Communication Project. In 1995 she created texts for the Spanish Ecology children booklets "Colección Retonitos", and  published similar publications with Environmental NGO. She also worked in El Salvador as consultant for various projects including Environmental Impact Evaluations, Hazardous Waste Management, and Environmental Legislature. She implemented activities with schools, colleges, NGO and rural communities to address a range of environmental issues like Biodiversity Conservation and Ecotourism. In 1999, she worked with Pesticide Action Network to help create a database of Spanish educational materials for Californian farm workers, about the risk from pesticide poisonings, how to get medical health and  workers' rights. She has been a member of the North American Association for Environmental Education, Audubon Society of El Salvador and "Unidad Ecologica Salvadoreña". Rosa attended NOVA Southeastern University for the Coastal Ecology Program, and currently works and lives in Florida with her husband. They have four daughters and one son. She is currently an avid researcher of converso Jewish ancestry in Central America, through family narratives, DNA, Colonial and Inquisition records, and is an SCJS member, past contributor to HaLapid and a past SCJS conference presenter. She is an active member of the Sephardic congregation of South Florida and a guest member of the Sephardic congregation of Honduras and El Salvador.
Cynthia Seton-Rogers
Immediate Past SCJS President and Editor of La Granada
Cindy Seton-Rogers is a doctoral student at The University of Texas at Dallas, where she also received her BA and MA in historical studies. Her declared fields of research for her PhD are early modern European history, anti-Semitism, and Holocaust literature. The focus of her dissertation will be the Sephardic Diaspora in general and crypto-Jews in particular. She currently serves as the academic and outreach events manager for the Ackerman Center for Holocaust Studies at UT Dallas. Email: cynthia.rogers@gmail.com
Debbie Wohl Isard
Past Present
Originally from Philadelphia, Pennsylvania, Debbie Wohl Isard has a Bachelor of Arts in psychology from New College, Hofstra University, and a Master of Social Work from Hunter College, New York. A former social worker, program director, event planner, litigation paralegal, and business owner, she has served as a management consultant for funeral homes and an assistant elementary education teacher specializing in working with gifted/learning disabled students. She has also written articles about family health, pregnancy, ADHD, and education for a variety of other publications.
Maria Apodaca
Outreach Coordinator
Maria's family has been in New Mexico since arriving in 1598 with the Juan Onate expedition. She was born and raised in Albuquerque and raised a Catholic before finding out, at age 14, her family's true heritage. She made her return to Judaism in 1999 and is active in many Jewish organizations. Her affiliations include: founding member and event coordinator, Centro Sefarad NM; vice president, Jewish Genealogical Society of New Mexico; and member, New Mexico Jewish Historical Society. She shares her personal story and the Sephardic saga as a speaker (since 2016) for the Road Scholars program.
Corinne Joy Brown
Vice President of Communications and Editor of HaLapid
Corinne is the award-winning author of nine books and a freelance writer for several magazines. A member of the Colorado Authors' League, she is past president of the Denver Woman's Press Club, and a charter member of Women Writing the West. She was also board chair of the Mizel Museum of Judaica in Denver from 1990-2000. Corinne created Writing the West, an accredited literary conference, now a part of Colorado University Gunnison's humanities program. She is a Fellow of the University of Colorado at Colorado Springs. Website: corinnejoybrown.com
Diane D. Mock
Treasurer
Diane D. Mock is a crypto-Jew with maternal ancestry who hails from the San Luis Valley. She's a freelance writer and retired educator who resides in Denver, Colorado with her husband Freddy and dog Dulce.
Beth Chernoff
Recording Secretary/ Community Event Tracker
Beth is a relative newcomer to SCJS, having been motivated by the 2017 conference held at Mikveh Israel synagogue in Philadelphia. A decade earlier, Beth served in the Education Dept. at the National Museum of American Jewish History, which shared space with Kahal Kadosh Mikveh Israel, and served as its repository. There, she wrote curriculum materials, and educated visitors about the role of Sephardim and Crypto-Jews in American life. Beth has also served as a librarian in New Jersey state government, and in academic and corporate settings.
Isabelle Medina Sandoval
Secretary
Isabelle Sandoval has served as a teacher/administrator/professor of Spanish, English, Literacy, and Bilingual Education.A Santa Fe poet/writer, she has advocated for bilingual multicultural standards. Isabelle studies information regarding the experiences of the descendants of Iberian crypto-Jews grounded in genealogy, history, language, traditions, and DNA.As a Portuguese citizen based on her ancestral connection to Portuguese Sefardita origin, her goal is to enhance a Jewish learning community engaging in quality clarification, exploration, and research.
Donna Medina
Member-at-Large
From Denver, Colorado, Donna's Jewish ancestors came up the Santa Fe trail in the 1800's and settled in Trinidad before moving to Denver. Rabbis confirmed her parents' belief that they were descended from those who fled the Spanish Inquisition, prompting a lifetime of heritage research. With a B.A. in Music Education from Metro University/Denver plus graduate work at Denver University, the University of Colorado, and Mozarteum University of Salzburg, Austria , Donna has served as both District and State representative for the Colorado Music Educators Association. She has played in theatre and festival orchestras and is a board member of the Colorado Hebrew Chorale, on the planning committee of Temple Aaron in Trinidad, Colorado, and a supporter of Hadassah, the Israeli American Council, and the Jewish National Conference.
Schelly Talalay Dardashti
Member-at-Large and Social Media Coordinator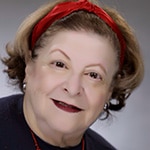 A journalist, editor, and in-demand conference speaker, Dardashti is the US Genealogy Advisor for MyHeritage.com. For 35 years, she has tracked her Mizrahi, Sephardic, and Ashkenazi families around the world She founded Tracing the Tribe – Jewish Genealogy on Facebook; currently, TTT has some 40,000 members in 101 countries. She speaks at most major international and US genealogy conferences annually and was the former Jerusalem Post genealogy columnist (print/online). She is a New Mexican by choice and a native New Yorker.
Art Benveniste
Member-at-Large and Society Historian
Art has been an SCJS member since 1993, traveling with society members to Belmonte, Portugal when the SCJS conference was held there in 1994. He has served as president, HaLapid editor, membership chair, website administrator and treasurer. He is a retired teacher of history, government and economics. His interest in crypto-Judaism has led him to travel to Brazil, Peru, Mexico, Spain, Portugal and the American Southwest. He is active as a speaker on crypto-Jews and Sephardic history and culture in California.h
Natalie Trujillo Gonzalez
Co-Vice President of Membership: East Coast
Natalie Trujillo Gonzalez, born and raised in Albuquerque, New Mexico, studied at the University of New Mexico and The National Institute of Flamenco. She now lives in Maryland with her husband Rudy Gonzalez. A mother of five children and grandmother of four, she works at The Art of Natalie Trujillo studio as a fine artist and is passionate about art, history and flamenco. Her family has a long and meaningful history in New Mexico with crypto-Jewish roots.
Blanca Carrasco
Conference Chair 2022-23
Blanca Carrasco is a descendant of Marcos Alonso de la Garza y del Arcon, co-founder of Monterrey, Nuevo Leon, a center for crypto-Jews in Mexico since the time of Luis Carvajal and Diego de Montemayor. Born in Torreon, Coahuila, Mexico,  her family migrated to El Paso, Texas. Although raised Catholic, she sought to find the place she could call "home." In 2007, she and her family reached out to Rabbi Stephen Leon to return to Judaism. In 2008, she officially converted. She became very involved with the local Jewish community and the El Paso Jewish Federation and as editor of "The Jewish Voice" their monthly publication. She is a Board Member of the Anusim Center El Paso and supports its outreach in Mexico.
Blanca was featured in Isaac Artenstein's film " A Long Journey: The Hidden Jews of the Southwest," and depicted briefly in Ron Duncan Hart's book "Crypto-Jews, The Long Journey" as well as in the film "Children of The Inquisition" by Joseph F. Lovett. Blanca is married and has two children. She has a Master's in Education in Higher Education Leadership, a Certificate in Women and Gender Studies, a Bachelor's in Graphic Design with a Minor in Speech, and an Early Childhood Certificate. She is currently the Program Manager for Student Success and Strategic Initiatives in the Department of Civil Engineering at University of Texas El Paso.
Kimberly Cawthorne Sanchez
Outreach
A 6th generation Colorado native, Kimberly holds a Bachelor's degree in Sociology and a Master's degree in Curriculum and Instruction with an emphasis in Urban Education. She has experience in nonprofit management and development and in education. She has taught every level of high school Spanish, from beginners to Heritage Language Learners and the International Baccalaureate Program. She was Program Coordinator for the Master of Arts in Education Department at Regis University teaching Multicultural Perspectives and Foundations for Culturally and Linguistically Diverse Educators. With a passion for genealogy, history and heritage for Northern New Mexico and Southern Colorado, she has discovered an unexpected link to Sephardic Judaism in her family. Intrigued by this discovery, and what she found in her research, in 2019 she wrote a historical fiction love story hoping to spark further dialogue, Love & Legacy: Amor Eterno. In addition to writing, Kimberly does evaluation and editing work through her business, La Gente Legacy, LLC.
Seth Ward, Ph.D.
Member-at-Large
A senior professor and lecturer in Islam and Judaism, Dr. Ward teaches at the department of religious studies at the University of Wyoming. He has done extensive studies of crypto-Jews, has presented papers at SCJS conferences, and contributed to HaLapid.