Events
While we hope to be able to gather in person next year for a more traditional conference, this year we will host a virtual mini-conference with special invited panels. We are presenting these presentations to you free of charge, but donations of any size are very much appreciated and can be made by clicking here.
Thanks to a generous challenge gift by Stanley and Helen Hordes, all gifts up to $5,000 will be matched dollar-for-dollar.
Please note: Due to unforeseen schedule conflicts, the Sosin and Hordes Lectures were rescheduled. The dates and times listed below are correct.
Pre-registration is required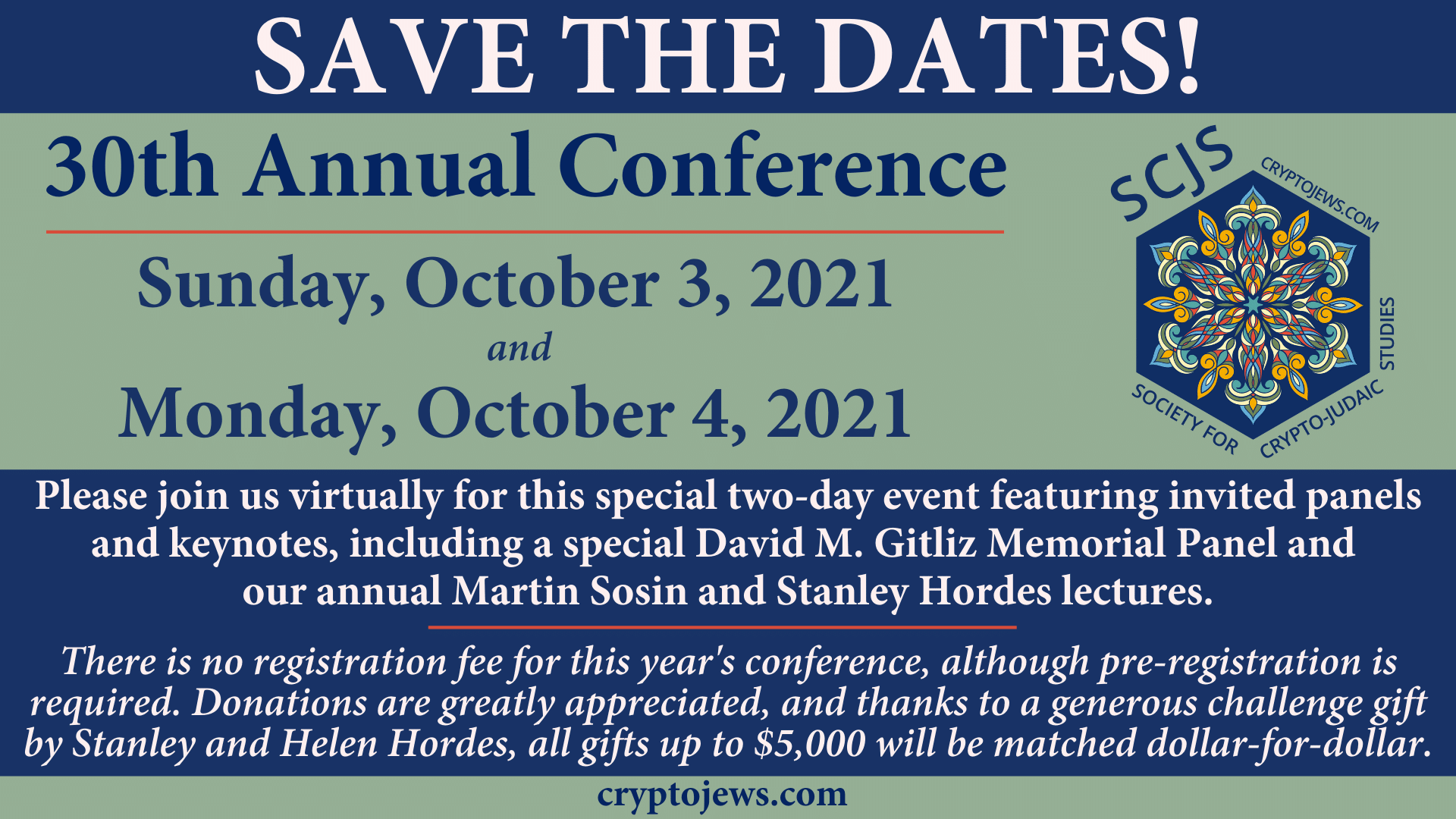 SESSION 1: Sunday, October 3rd at 12pm EDT
Welcome - Cynthia Seton-Rogers, President, SCJS
Opening Greetings and David M. Gitlitz Emerging Scholar Award Presentation
Debbie Wohl-Isard, Past President, SCJS
Special Panel: Remembering David Gitlitz
Chair: Debbie Wohl-Isard
Panel Participants:
Isaac Amon
Doreen Carvajal
Joe Lovett
Hélène Jawhara Piñer
Silvia Hamui Sutton


---
SESSION 2: Sunday, October 3rd at 2pm EDT
Annual Stanley M. Hordes Distinguished Scholar Lecture
Chair: Seth Ward
Prof. Ronnie Perelis, Chief Rabbi Dr. Isaac Abraham and Jelena (Rachel) Alcalay Chair in Sephardic Studies,
Yeshiva University
"Singing the Lord's Song in the Lands of Captivity: New Insights from the recovered Carvajal Manuscripts"


---
SESSION 3: Sunday, October 3rd at 4pm EDT
Trends in the Genealogy of Crypto-Judaic Studies
Chair: Corinne Brown
Panel Participants:
Schelly Talalay Dardashti
Genie Milgrom
Adam Brown


---
SESSION 4: Monday, October 4th at 12pm EDT
Martin Sosin Address to Advance Scholarship in the Crypto-Judaic Arts
Chair: Cynthia Seton-Rogers
Panel Participants:
Dr. Enric Madriguera, Russell Cleveland Professor of Guitar Studies,
The University of Texas at Dallas:
"Echoes of Sefarad: Music as a Vehicle of Memory, and Anchor of Identity"


---
SESSION 5: Monday, October 4th at 2pm EDT
Crypto-Jewish Literature
Panel Chair: Doreen Carvajal
Panel Participants:
Kathleen Alcalá, "From Samizdat to Cookbooks: A Fleeting Overview of Crypto-Judaic Publishing"
Corinne Brown, Author, Editor and Speaker about Crypto-Jews Ron Hart"Ethnohistory and Crypto-Jews"
Claudia Long, "Writing about Crypto-Jews"


---
SESSION 6: Monday, October 4th at 4pm EDT
Annual Membership Meeting
Cynthia Seton-Rogers, SCJS President